---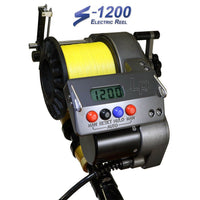 This is the new LP S2-1200 with a brushless motor and electronic upgrades to even further improve this already bullet proof reel!
Increased efficiency from new technology allows high performance with 12 volts D.C. input.  This level of performance was not previously available at 12 volts. The electronics provides for many new features not available before including a counter and stop at top automatic operation.
The all new cantilever spool design allows for a completely sealed drive system for long reliable, maintenance free use. The gear driven level winder line wraps automatically for hands off carefree retrieval. It is the most rugged and ergonomically designed electric reel available.
 ***ALLOW FOR 16 WEEK DELIVERY FOR REEL***
US & Foreign Patents Pending
• Standard Features *=Optional
• High Power state-of-the-art 12 VDC motor operation
• Electronic Control and Switching.
• Electronic Counter
• Stop at Top Mode
• Simple Controls
• Hands Off Hauling
• Gear Driven Level Winder
• Ergonomic Cantilever Design
• Electronics Sealed with Inert Gas Atmosphere
• Comes with GFN Composite Spool. Optional Titanium Spool* Endures Any Type or Size of Fishing Line
• Anodized Aluminum Alloy Construction
• Changeable Spool Design, Quick Change Hub Standard
• 2 Stage Drag System
• External Preset Drag Control & Vernier Control
• Smooth Wide Span Drag Control (180 degrees)
• 0 to 60 lb. Plus Drag Capability
• Designed for Continuous Fishing in Deep Water for Large Fish
• All Line Usable Spool Design
• High Line Capacity Spool