---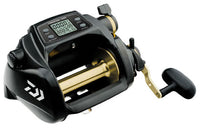 This combo deal includes a Diawa Tanacom 1000 and custom Check'n Bottom Tilefish/Deep Drop rod. This rod is built on a 40-80# Rain Shadow Blank and come with black 316 Stainless Alps guides with ultra hard Zirconium inserts, a Winthrop roller tip and a #2 Alps long bent butt. 
This rod is perfect for seeing the bite of deep drop fish such as tilefish and barrel fish. 

This rod is not recommended for swordfishing. 

Build time for the custom rod is 4-5 weeks. 
Can be spooled with 65# or 80#  TUF Line braid for an additional $100.